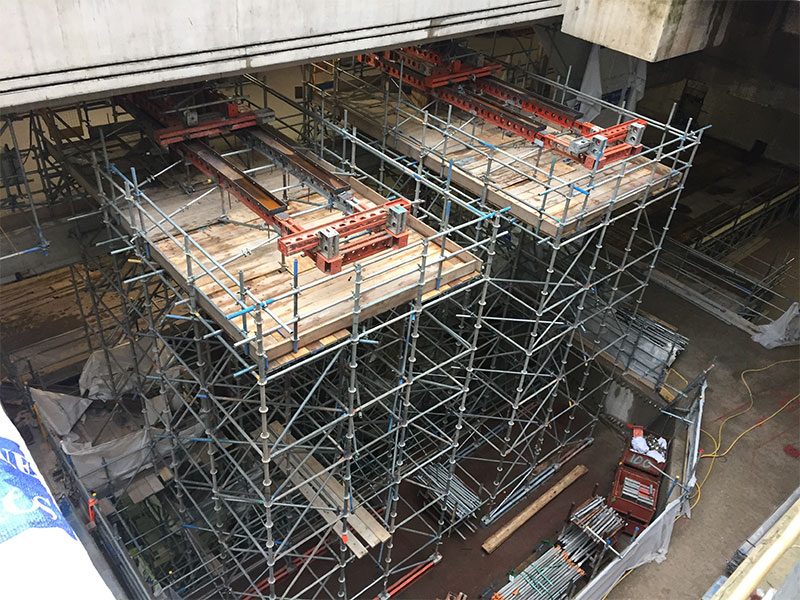 In August 2015 CCS scaffolding were instructed by clients Costain Skanska joint venture to start works on the Crossrail C405 Paddington station development in which previously they had installed Fourty-Six 20 metre deep plunge columns into the ground for structural stability whilst installing the three floors underground.
We provided the full plunge column removal package from erecting scaffolding to installing the steels liftings apparatus and the lowering of steel. We did this by using two different types of high weight loading temporary support systems Rapid Shore and RMD Alshore systems in which we used our scaffolding expertise to adapt these support systems to allow working platforms for welding, adjustment to the steels and burning, they were also used to allow the use of  block and tackle systems to lower the steels down for removal. There was also a number of plunge columns that we removed differently and instead of cutting steel into peace meal sections we erected a high strength formwork sliding mechanism and slid the columns out beyond the slab and used cranes to lift the full 20 metre section out into laydown areas to be cut afterwards.
Due to tight time scales and limited room for error this job was planned well in advanced and had the need for CCS to have early involvement within the project and high numbers of staff working nights and day to meet the clients programs so that the steel plunge columns could be removed in a safe and professional manor.